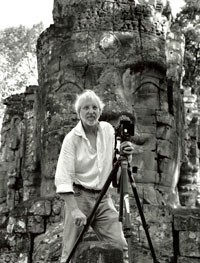 American photographer John McDermott first came to Angkor in 1995 to witness a total eclipse of the sun. Inspired by the surreal, otherworldly light of the eclipse, he returned again and again over the next several years to create a definitive artistic portrait of the ancient Khmer temples.
Originally a native of Little Rock, Arkansas, in the U.S., McDermott had worked in editorial and commercial studio photography for several years in America. After a brief hiatus working in the feature film industry in Los Angeles, he arrived in Asia in 1993 to take a magazine job in Bangkok, and fell in love with the culture and the continent.
In addition to his Angkor work, McDermott has continued his fine art project throughout Southeast Asia, focusing on ancient temples and cultural heritage sites. His travels have taken him to Burma, Thailand, Laos and Vietnam as he photographs sacred sites and the living culture that surrounds them. He now lives with his wife and young son in Siem Reap, Cambodia, where he founded three galleries that exhibit the work of Cambodian artists and photographers working across Asia.
John McDermott's work is on display as part of the permanent collection at the National Museum in Phnom Penh, Cambodia. His photographs are held in private collections worldwide and have been printed in numerous books and publications, including Time, Newsweek, The International Herald Tribune, and The New York Times. He continues to photograph around the world, and his latest project will take him to Kenya and Tanzania.