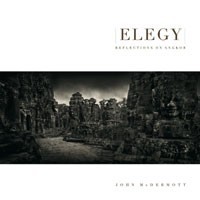 Elegy: Reflections on Angkor is my fond tribute to an Angkor that is rapidly changing—hence the title, with its connotations of love and remembrance. Most of the photographs were created when it was possible to wander alone through the ruins. During that time, I decided to undertake a comprehensive portrait of the temples, before the influx of tourism that I sensed was to come. As it turned out, the changes have been so rapid that many of the photographs are now historically relevant, showing a face of Angkor that is vanishing.
The desire behind Elegy was to create an artistic series that captured my personal experience of Angkor and its effect on the emotions and the spirit. In that vein, I asked Roland Eng, formerly the Cambodian Ambassador to the U.S. and now Cambodia's Ambassador-at-Large, and Kenro Izu, a highly respected fine art photographer known for his Sacred Places series which includes Angkor, to each write about his own relationship with Angkor in the introduction and foreword to Elegy.
The book is now in its second edition.

The New York Times profiled my Angkor work in this article, while Destinasian discussed Elegy here.
—John McDermott